When building an office in the modern world, the last thing you want to do is become overly basic. For example, in the past we would keep our offices walled-off and squared-off. This is not a good look, and often creates archaic and dull looking properties. If you want to make your staff feel invigorated when working, or guests to feel welcome, you need more variety. This is why our curved glass partitions in Manchester are such a popular choice for our customers. They help to add a modern touch to the office, all without being too over-the-top.
We use a variety of design structures and ideas to help make sure the finished touch is spectacular. By planning out the kind of curve that would look best for each part of the office, we make sure you get partitions that feel like they fit the theme of the room. For example, your reception should make people feel welcome to the building. From the meeting rooms to the interview areas, though, you should make them feel as welcoming as possible also. Using curved glass partitions is a small but simple step to making that possible.
It helps to invigorate the energy into the room, making it stand out and look a whole lot more impressive. It adds a new angle and a touch of modern flair and creates a less rigid looking structure. Waiting rooms, receptions, meeting rooms, conference suites and everything else should feel modern and central. By using curved partitions, you can often create more floor space elsewhere without wasting needless room space.
Basic, squared off angles can look good for certain locations. Sometimes, though, you need more.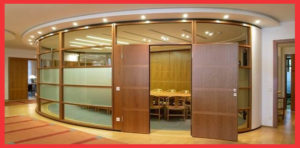 Professional fitting of curved glass partitions in Manchester
It is for this reason that you should take the time to re-evaluate the layout of your office space. By using high quality glass, you can reinforce the look of your office and keep rooms nice and quiet. The curved glass helps to add a new and modern shape to the room. The glass itself, though, helps to add much-needed privacy and protection to the room within.
Now, staff can work together, hold private meetings or simple liaise with staff/customers with ease. It helps to keep the noise within the room private, and any noise from outside from bothering those within. Curved glass partitions still offer the same improvement in room security. It also goes a long way to making the room feel a lot more comfortable to sit in, reducing noise pollution that can become quite bothersome.
Part of the reason why we love to use curved glass partitions is that they help to modernise the floor without being excessive. The thin profile helps to make the best use of space, while the shape helps to maximise the visual appeal. It is for this reason, then, that we recommend you consider getting partitions fitted
For help with a no obligation, free quote for curved glass partitions, then, you can contact us today. We can make it much easier for you to modernise your office space in the simplest possible manner. All it takes is a change in shape and in wall style, and you can make the whole office feel more welcoming. Contact us today, and we can help you to see the wide-reaching benefits of installing curved glass partitions in your Manchester office.