Welcome to KP Ceilings, the ideal service for those who need new glass partitions in Manchester. We work around the clock to help our clients get the best standard of glass partitioning, following a proven concept that delivers results. We are experienced and we are knowledgeable about the use and fitting of glass partitions. We know why you want them, and what they can do to help make your home or business look even better. For more help with glass partitions in Manchester, then, we are just a single call away.
At KP Ceilings, we are proud of the job that we do. We know that precision and accuracy is especially important when it comes to the fitting of glass partitions. This is not a job that can be rushed or put together without proper planning. Through the years, we have grown accustomed to making sure every single part of the job is perfectly prepared.
From the early planning phases, where we will lay out all the design, to the fitting of the partitions, everything is meticulously planned. We know that the end result is dependent on good planning from start to finish. So, everything is taken very seriously. We plan and prepare all parts of the partitioning, using the best single glazed and double-glazed glass partitions in Manchester. They are put together specific to your needs and delivered to help meet any purpose that you might have.
Why should I choose to have glass fittings installed?
There are numerous reasons why you might choose to have glass partitions fitted. One of the most common reasons is, quite simply, the level of detail it provides. Strong, secure glass partitions will look excellent and help to bring in a whole fresh look to any room. A room that was previously closed off and cut off from the rest of the facility can look quite unwelcoming. Glass partitions help to give everyone inside their own space, without feeling excluded from the outside.
This helps those who are working in glass partitions to stay abreast of the situation on the floor. It also helps to provide privacy from noise pollution, meaning you can work without distraction. Visual changes come from being able to see the whole building, and this helps to vastly improve the standard of your property. It adds extra scale to the rooms, too, as the extra lighting that comes in helps to make each room look bigger and fresher.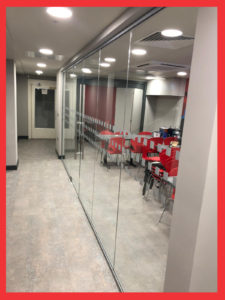 That added change can really go some way to making sure you can see why you might benefit from having affordable glass partitions installed. Your office could always use a bit more open-mindedness, and partitions help to make the whole office feel more open and alive. Now, your staff can feel more connected to each department and colleague.
It helps to avoid isolation and improve the modern feeling of life in your workplace and office spaces. By reducing that feeling of uncertainty, everyone can work to their absolute best. The added change to the atmosphere helps the whole office to feel like a team instead of a collection of individuals.
This helps to really build up the look of your building, and thus improve its long-term value. If you have the intention of modernising your office with the intent of a sale, then glass partitions can really add new value. Old offices can tend to look quite stuffy and unwelcoming, especially from the outside. This helps to clean that problem up and leave you with a property that looks outstanding from the interior and the exterior moving forward.
Modernise your place of work with Manchester glass partition fittings
Our team can come around and take a look at the kind of partitions that you need. By quickly working out what changes we could make, we can ensure that your place of work will look better. We will evaluate the kind of finish that would work best with each area of your office. From removing old and isolated cubicle blocks for something more welcoming, to making your reception and waiting areas far more inviting, we will find the solution that suits you.
Just let us know what you need, when you need it, and we can make a comprehensive change to the way that your place of work looks. It is often a solution that can be hard to work around, but you should have little problems in finding a solution with our help. We can help you to spot where the problems are at their worst, and create a simple plan to change up lighting, location, and overall use of space.
Do not let your property go undervalued for a day longer than it already has. With our eye for change, we can help to correct the problems at hand in a short space of time. We work quickly but we do not cut corners. This allows for a fast, stress-free, mess-limited installation. Other groups might leave the place looking like a disaster zone as they work. We are clinical, we are careful, and we are consistent. Everything is done with a clear plan in mind and is handled by our expert staff who are used to the challenges of partition fitting.
Need help with glass partition fitting in Manchester?
Then you can contact us as soon as is possible. Our team at KP Ceilings can get to work to solve the stressful situation that you find yourself in. By restoring your property and helping each room to look far more impressive, we offer a straightforward way to positively transform every square inch of your property.
From the benefit of more lighting to making the whole place feel less isolated, using glass partitions makes a lot of sense. With our eye for a clean finish and a smart detail, we can be the perfect choice for you. Just let us know what you need, and we will get to work as soon as possible on transforming your property with partitions! A free, no-obligation survey is just a call away!