When you are working in the modern world, you know that you have demands to meet. Everything that we do in the workplace today demands 100% concentration and preparation. If you cannot commit to that, you can find it hard to get the job done to the right standard. At KP Ceilings, we understand how hard that can be for you. This is why we offer access to the simplest solution to making workplace productivity problems a thing of the past. We offer access to single glazed acoustic glass partitions in Manchester.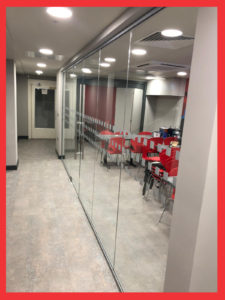 This service has become one of our most popular, offering an uncomplicated way to refresh your entire office space. We also provide free, no-obligation quotes so you can see for yourself why this is so useful. When fitted correctly, single glazed acoustic glass partitions can make a stellar difference to your entire office space.
It is a fine example of what happens when you let your office become a bit more modern. By opening up the floor plan and making everyone feel more included, you also give everyone their own personal space to work in happily.
Single glazed acoustic glass partitions: are they right for my business?
Every business is different, but for businesses with minimal space a single glazed acoustic glass partition can look excellent. You can use these single glazed options for a low profile, thin looking solution that does all that you need to make the whole venue look sharper. They avoid being too thick, meaning that you do not need to worry about running out of valuable space.
When combined correctly, this kind of glass partition could help you turn two impersonal offices into three bespoke office units. The acoustic nature of the glass helps to keep the sound in, and the sound out. People will not hear your conversations from outside, and you will not hear what is going on outside either. This lets you to work, network and liaise with people as you see fit without people eavesdropping.
It also helps to keep the whole building much safer, as glass partitions help you to spot problems normally hidden by walls. They make it much easier for you to enjoy a safer, simpler experience, overall. By using this kind of fitting, you can quickly reduce and minimise the risk and stress of running your own business. You can see everything while giving everyone the guarantee of privacy as they talk.
By opening up the whole floor plan, though, you make it much easier for your staff to work together as one. People can be easily found due to the open-plan visual nature of glass partitions. More importantly, though, sound no longer has to be quite so distracting to the rest of the office.
For a low-profile but hugely effective solution to noise pollution, then, be sure to take a look at our single glazed acoustic glass partitions. Contact us today if you are interested in finding out how you could use this particular style of fitting your advantage.